LiftWalker with Patented Retractable Stand Assist Bars
LiftWalker will provide convenient safe assisted independence anywhere, anytime it is needed!
Questions? Call Toll Free 888-872-2300, anytime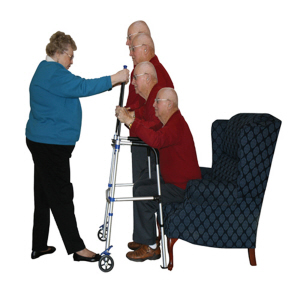 Features:
* For use by individuals who need assistance with sitting/standing on their own.
* Safer than being pulled by an attendant or caregiver.
* Reduces risk of injury to an attendant or caregiver.
* The retractable bars are easy to deploy.
* The Lift Walker makes it easy to stand because the individual uses biceps, chest, back, stomach
and leg muscles all at once.
* Easy to lock/unlock foot brake.
* Easy push button mechanism may be operated by fingers, palms, or side of hand.
* Each side operates independently to allow easy movement through narrow spaces and greater
stability while standing.
* Comfortable, soft foam padded hand grips.
* Limited Lifetime Warranty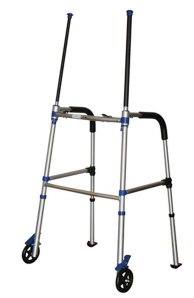 Specifications:
* Width Inside Hand Grip: 19"
* Width Inside Back Legs: 21.5"
* Depth, opened at base: 22.5"
* Height, at highest setting: 39.5"
* Height, at lowest setting: 33.5"
* Product Weight: 11 lbs.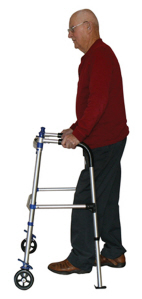 Please email or call us on our Toll-Free number 888-972-2300 with any questions before buying.
*The item is as described in the written description. The photo is a stock photo from the
manufacturer.*
___________
Shipping
___________
Free Standard shipping to all addresses in the contiguous USA, the 48 connected states.
Shipping to Alaska, Hawaii, USA Territories, Canada and other parts of the world will cost a
different amount. Please contact us before purchase, if you would like this product shipped to an address outside the 48 contiguous states to find out the actual freight cost.
Cancelled Orders
Orders cancelled after the item has shipped are subject to all standard return policies. You must accept delivery, obtain an RA Number and ship the item back to the correct address. If delivery of an item is refused, return shipping costs are deducted from the issued credit and a 20% restocking fee will apply.