Product Description
Portable Bath Step
Adds safety and stability when getting into and out of the bathtub or shower.

Provides a 4" boost with slip resistant soft top and rubber feet.

Use it wherever you need a step!

Retail Value: $50.93
Features and Specifications:
* Makes getting in and out of the bath tub easy and safe.

* Unique modular design allows the multiple steps to be stacked.

* Step height is 4", with the 2 steps included stacked.

* Each additional step adds 2".

* Steps cna be stacked, adding 2" in height for each additional step.

* Plugs can be removed when stacking steps to ensure a secure fit.

* Bath step comes with four removable covers on the surface that locks into another step when

stacking.

* Attractive, textured surface is slip- resistant and comfortable.

* 450 lb. weight capacity.

* Dimensions: 19.5" (W) x 16" (D) x 4" (H).

* One Year Limited Warranty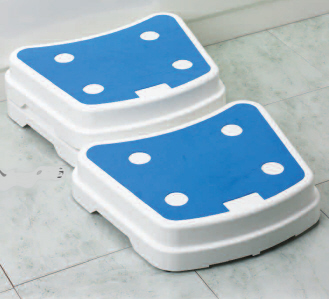 Please email or call us on our Toll-Free number 888-972-2300 with any questions before buying.
*The item is as described in the written description. The photo is a stock photo from the
manufacturer.*
___________
Shipping
___________
Free Standard shipping to all addresses in the contiguous USA, the 48 connected states.
Shipping to Alaska, Hawaii, USA Territories, Canada and other parts of the world will cost a
different amount. Please contact us before purchase, if you would like this product shipped to an address outside the 48 contiguous states to find out the actual freight cost.
Cancelled Orders
Orders cancelled after the item has shipped are subject to all standard return policies. You must accept delivery, obtain an RA Number and ship the item back to the correct address. If delivery of an item is refused, return shipping costs are deducted from the issued credit and a 20% restocking fee will apply.
---
Warranty Information
One year limited warranty from the manufacturer
---
Find Similar Products by Category
---
Customers Who Viewed This Product Also Viewed